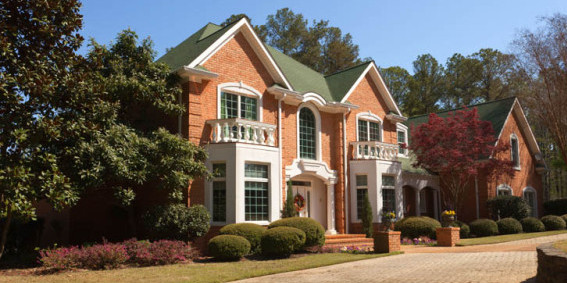 At Chigoe Creek Retreat, we believe in providing our guests with an exclusive, luxury tranquil visit away from the hustle and bustle of the city where they can enjoy privacy, serenity and an experience unlike any other.
The house sits on Eubank Drive, a winding, country road. The road curves just at the right time to present this 6,300 square foot home nestled upon 20 acres.
After entering the gate, you will begin the drive down the driveway past a fruit orchard and beautiful landscaping.
The further you drive toward the house, the more quiet the atmosphere becomes. Only sounds left become that of the crickets and critters among the beautiful natural surroundings.
Upon entering the home, guests are welcomed into a wide open floor plan that includes a two-story foyer with a winding staircase and beautiful antique furniture. Off to the right they can catch a glimpse of the entrance to the oversized gourmet kitchen which leads into the gathering room, great for a family get-together.
The first floor also features a cherry-paneled wood library, sun room, great room and the master bedroom, complete with a king-size bed set up to enjoy a panoramic view of the pool and private pond.
On the second floor, there are three additional bedrooms, each with their own unique name and personality. The Regency Suite features two queen beds and a day bed.
Step outside onto the outdoor balcony, overlooking the grounds of the property leading into the other bedroom. This bedroom features a giant king-size bed and a pull-out sofa, so there's always room for extra company.
The Garden Bedroom located upstairs; is the smallest bedroom featuring a queen sized bed. This room features a large window with a beautiful view of the front of the estate.
The back half of the estate at Chigoe Creek Retreat is the ideal location for perfect relaxation.
Featuring a salt water pool complete with a diving board, poolside tables and umbrellas.  The inviting walk down to the trellis at the private pond is simply breathtaking.
There are few things as peaceful as an evening sitting below the trellis at the CCR pond. Prepare to surround yourself with all of the sights and sounds of this beautiful setting.
We encourage wasting time with loved ones while swimming in the pool or sitting at the gazebo.
Chigoe Creek Retreat – A Luxury Place to Get Away!
Visit HomeAway.com – Property # 3527842 and read the reviews left by past guests. Link: https://www.homeaway.com/vacation-rental/p3527842